About the project
In 2019, trade accounted for more than 60 percent of global gross domestic product (GDP). But if global trade, cross-border value chains and online commerce are to function smoothly, there needs to be greater international cooperation. International trade is more sustainable and competition is fairer when there is common ground based on a uniform set of rules and standards. Internationally harmonised legal and technical requirements ease the processes of trade for business and people. The Global Project Quality Infrastructure (GPQI) is a platform for international dialogues on rules and standards for the economy.
Product quality and safety do not stop at the borders of nation states. A shared understanding of the quality and safety of products establishes trust and promotes innovation. Quality infrastructure is the system that covers all tasks required to ensure products and services are safe and of high quality. The system is effective when harmonised internationally – this is what GPQI works for.
GPQI – International dialogue on the harmonisation of quality infrastructures
The German Federal Ministry for Economic Affairs and Climate Action (Bundesministerium für Wirtschaft und Klimaschutz - BMWK) has been cooperating with partner countries for many years with a view to supporting the international harmonisation of quality infrastructures. Germany intensified these efforts in 2017 with the establishment of the Global Project Quality Infrastructure (GPQI). Through GPQI, Germany engages in international cooperation on quality infrastructure with important trading partners such as Brazil, China, India, Indonesia and Mexico. This cooperation also extends to Canada and the United States.
The EU's legal framework and approach to quality infrastructure form the basis for Germany's position in the dialogues. Just as Germany has engaged in the international harmonisation of quality infrastructure for many years, so too its partners share their perspectives on QI and the latest developments and challenges in their respective countries.
All GPQI participants are working towards reducing technical barriers to trade, enhancing product safety and strengthening consumer protection.
GPQI builds on the expertise of various stakeholders
GPQI facilitates a special format of bilateral political and technical dialogue. As a multi-stakeholder platform, the project brings together governments and experts from public and private sectors – including technical organisations, associations and industry. For the dialogues to be effective, they depend on this expertise and the innovation it drives.
GPQI takes a demand-driven approach. ​Cooperation topics can be proposed by all stakeholders. The challenges they face are addressed together. Their proposals for overcoming these challenges are key to successful implementation of the project. In this way, they can jointly develop meaningful approaches for well-functioning quality infrastructures.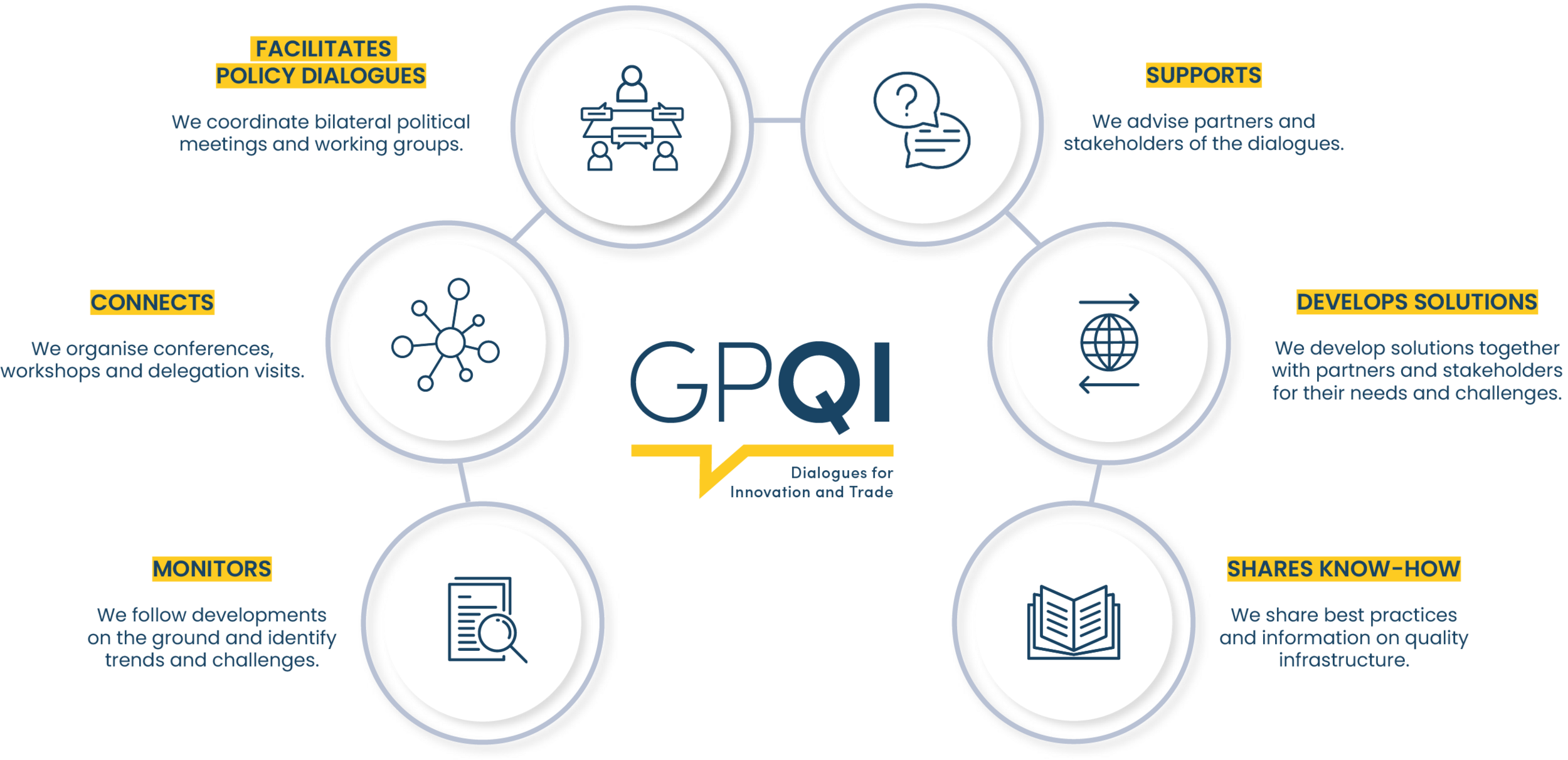 GPQI works with you on solutions - worldwide
The GPQI teams in the partner countries develop, plan and coordinate the activities on the ground. Each team is very well networked and in close contact with political partners and with public and private actors.
Opinions
"A coherent quality infrastructure guarantees reliability, traceability and comparability. The costs and time required for conformity assessment are reduced when standards are internationally harmonised."
Léa Contier de Freitas, Inmetro
"We live in a highly connected world. Therefore, it is of great importance to harmonise quality infrastructures internationally. For that, we must work together!"
Sonia Prashar, Indo-German Chamber of Commerce
"Cyber security does not stop at national borders. Together with our Indian partners, we aimed to promote secure production processes and trade via cyber-physical systems between Germany and India - as well as worldwide - by adopting IEC 62443. GPQI enabled constructive and close collaboration with numerous experts and stakeholders."
Matthias Gommel, Siemens AG
"The most important success factor of the project is the consistent implementation of issues at the different levels of institutions, industry and politics. For us as an SME, the political backing was important on the one hand, but on the other hand the direct line to the countries was crucial to solve technical challenges. In this way, we were able to discuss our concerns at any time, both from the perspective of our company in Germany - but also directly in Brazil with the GIZ contact persons and our colleagues on site."
Matthias Marzinko, Drägerwerk AG & Co. KGaA
"For global market access, our companies have to solve various technical challenges. Direct access to relevant government agencies or other affected companies helps enormously."
Hermann Wegner, VDMA
"For us, it is about building a resilient network in which there is mutual understanding and trust - a network through which we can discuss the German positions with other countries at an early stage, but also get to know their positions. In this way, we strengthen international standardisation together."
Florian Spiteller, DKE